Welcome to James Rhoads Elementary School!
Latest News!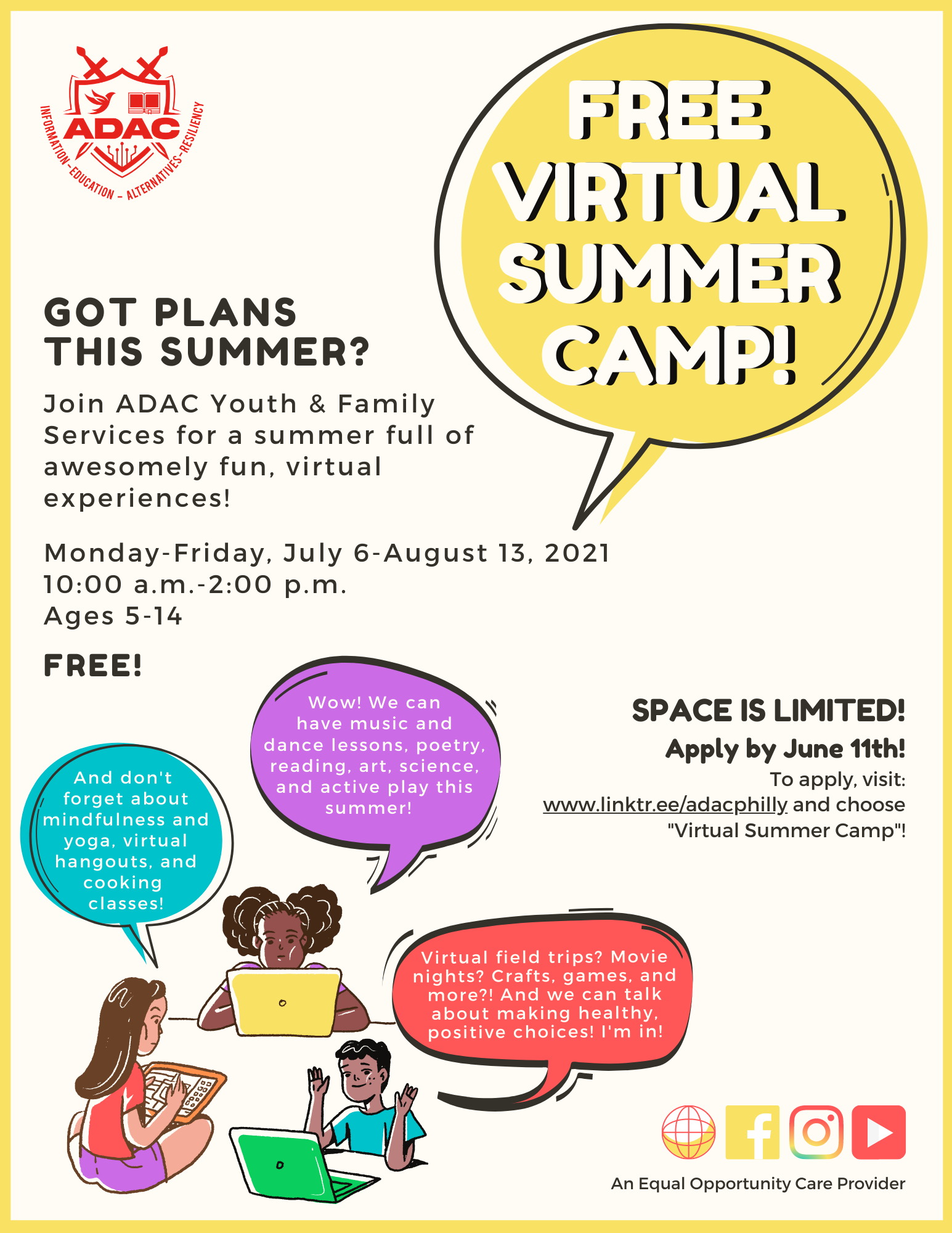 Here is the link to register for the Virtual Summer Camp
James Rhoads Elementary School
*Hybrid Learning UPDATE*
Dear School District of Philadelphia Families,
May, 2021
James Rhoads Families
To ensure a smooth transition, please read the following in preparation for the first day of school.
1. All hybrid students must attend school on their assigned days. Students who show up to school on a wrong day will receive a phone call for pick up.
2. Students should be dropped off at the school gate at 8:10 AM. A staff member will be at the gate entrance to receive the student and escort them to the correct line. No parents will be allowed in the schoolyard at drop-off.
3. If a student is late to school, they must be brought to the front doors, where a staff member will meet them and escort them to the classroom. No parents are allowed in the building due to covid restrictions.
4. All students attending hybrid learning MUST have a covid testing consent form on file with the school. Any student without a consent form will be unable to attend in-person learning.
5. All students will receive a free breakfast and lunch at school.
6. Students should bring a water bottle to school. The water fountains will be turned off, but the water bottle filler stations will be working.
7. All students returning to in-person learning will be required to wear a mask. Students may wear a mask from home or one provided by the school. Staff members will have masks at the gate during arrival. All parents must wear masks during arrival and dismissal.
8. If a student needs to be picked up early from school, a parent or guardian must come to the front door of the school, where they will be greeted by a staff member and asked to show identification. The student will be escorted to the front door for dismissal.
9. Students will be dismissed from the schoolyard. 1st and 2nd-grade students will be brought to the gate for dismissal.
Kindergarten parents must check in with their teacher to sign out their child. We ask all parents to remain 6 feet from each other at all times to adhere to covid regulations.
If you have any questions, please feel free to reach out. We look forward to seeing you at arrival!
Ms. Wapner Principal,
James Rhoads
Food Services Meal Distribution Flyer
Our Vision
The James Rhoads Vision is to provide a world-class learning environment where children become lifelong learners to positively impact not only their future, but also the future of their families and community.
 Our Mission
It is our mission as the staff of James Rhoads to provide a highly effective educational program that informs, inspires, liberates and empowers students to seize academic, emotional and social success.
Provide effective instruction that is standards driven, differentiated and rigourous and provided by highly qualified and dedicated teachers.